A Part of Rock 'n Roll History
Having gotten it's start in 1970, CAE Sound is proud to have played a modest, and mostly unseen, role in rock 'n roll history. We don't work on stage, in front of the crowds. But we were there, behind the scene, providing the technical support that helped musicians create the sounds that defined the genre.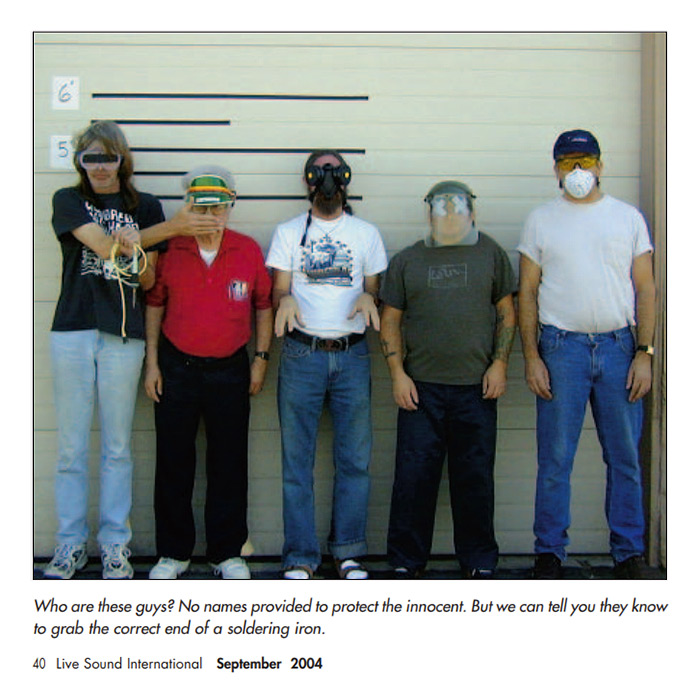 In 2004 the CAE Sound crew appeared incognito in an article appearing in Live Sound International magazine. The article (pdf) told the story of the mysterious and often unseen labors of the techicians that help perfomers keep their gear in good working order.
A Special Project for Joe Walsh
Joe used the Leslie Sound Effect on his guitar in the opening of the hit song Hotel California. To get the sound he wanted, Joe came to CAE Sound for custom hardware modifications.
Influenced by the LA music scene, Joe wanted to have a Leslie fitted with a JBL 2485 16 ohm HF Driver. In June, 1994, we built a Leslie Horn adaptor out of aluminum to connect the JBL Horn Driver with a 2 inch throat to the 3/4-inch diameter Leslie Treble Horn spindle. We consulted with the engineers at JBL and concluded that for the best transfer of power and lowest distortion we would have to make the throat as long as we could. It turned out to be about 13 inches long.
This was a huge mass to support inside the Leslie Speaker box. We fabricated special support brackets to secure the Driver during shipment from gig to gig. We delivered two Leslies in custom made road cases to the Shoreline Ampitheater.
The entire project was completed in one month.